Sandys Beach Cottage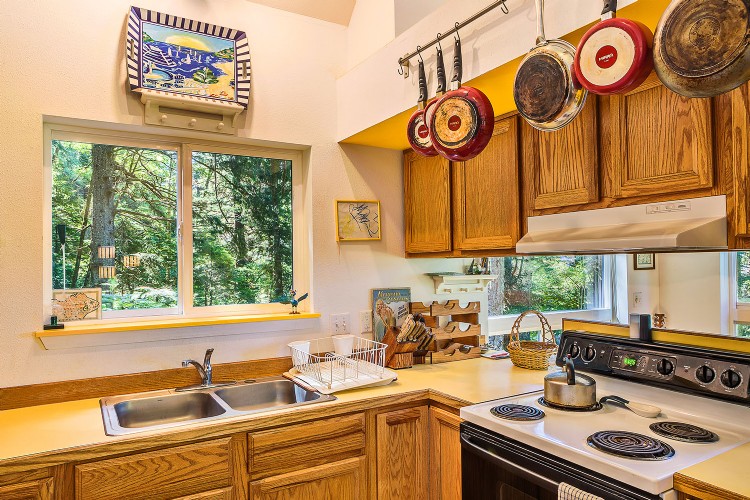 If your're looking for the hustle and bustle of Ocean Shores, with a McDonalds, Hotels, Gas Stations and swarms of visitors there's bad news - this is not it. (But we are just 12 miles and 20 minutes North.)

The good news is that Sandy's Beach Cottage is a world apart.

Just North of where Copalis Beach meanders to the great Pacific Ocean, is a gated community of private cabins.

The home is far enough off the highway to prevent road noise, surrounded by large trees and a very easy stroll down the lane to one of Washington State's most unspoiled beaches.

Built in 2002, Sandy's cottage home has 2 bedrooms, 1 bath and sleeps up to 6 guests. You can have a few more up to 8 max (but the other 2 won't have beds.)

Many beaches on the Coast allow visitors to drive their cars along the sand. It really is a great way of people to discover long stretches of pristine beaches.

The Copalis Rock area is something special. April through Labor day, vehicles are prohibited on the the beach from the Copalis River to Iron Springs. (Copalis Rock is a giant boulder just North and slightly off shore)

Because Sandy's Beach Cottage is newer, the kitchen is modern, as is the bathroom (more good news). In the winter, the heating, along with a tight wood stove, keeps the place toasty. The home is still cool enough in the warmer summer months.

We stock it with good towels and linens, plus kitchen pots, pans, plates and silverware. There are good lights for reading. There's convienient parking for 2 cars.

In the living room you'll find nice furniture and giant windows that face west where you can get a glimpse of the ocean. (Remember it's just a short stroll to that famous beach.)

Outside there is a nice deck, but guests seem to prefer the fire pit (Sometimes officials disallow camp fires if summer is overly dry.)

Being in the trees we are somewhat protected from the winds which can kick up especially in winter. Maybe you are one of those folks who love to watch the storms - we do.

So that pretty much sums up this cottage in the woods which is a quick stroll to the beach. Please come visit, rest and relax. Have fun with you friends and family, everyone loves a sandy beach.

INFO: Even though the beach is closed to cars much of the year, you may see light planes land and take off from the beach. This is the only beach landing spot in the entire state. It's fun to watch for kids and adults alike.
Casino
Ocean
Online Booking
Online Calendar
Online Discounts
Online Website
Online Videos
Name: Sandys Beach Cottage
Type: Cottage
Bedrooms: 2
Beds: QTTTT
Baths: 1
Normal Occupancy: 4
Max Occupancy: 8
Sleeps: 6
Rate Range Daily: 95 - 299
Rate Range Weekly: 548 - 1703
Tax Rate: 1,150.0%
Reservation Fee: 0
Website: SandysBeachCottage.com
Rental #: 2673
BED CODES: K=King, Q=Queen, F=Full, T=Twin, C=Futon Couch, M=Mattress, A=Air Mattress, L=Sleeper, S=Sofa, U=Trundle Bed, D=Day Bed